The Boca Bearing Company, one of the most trusted names in ceramic bearing and lubrication technology, today announced that they will again be sponsoring The Innovation Contest for 2014. Over $10,000 in cash and prizes will be awarded for innovative, mechanical projects that they submit to the contest. Boca Bearing Company believes in supporting innovators who push the limits of new technologies that will drive the future economy.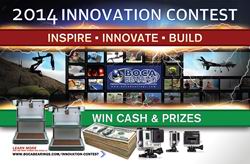 Boca Bearing Company's customers have also been heavily involved in creativity and invention, and the global Innovation Contest is a way to thank them for their commitment not only to the company but also to helping drive advancements in the world around us.
Contest winners will be chosen based on a video submission of their innovative, progressive or overall "cool" projects that utilize ball bearings, roller bearings or linear bearings. One finalist will be chosen by the voting public each month to win a GoPro3 Camera, and the Grand Prize winner will be chosen by the Boca Bearing Company to receive a grant check for $5,000. The two Runner Ups, chosen by Boca Bearing Company, will each win their own 3D Printer. ($2,700 value each).
Any mechanical device that requires either linear or rotary motion generally also requires a bearing to make that motion more efficient. Any project can be submitted for entry such as Unmanned Autonomous Vehicles (UAV's), Robots, Kinetic Art Sculptures, Engine Hacks, Performance Racing Applications, Sustainable Energy Projects and much more. For additional details on the submission process and how to enter, visit http://www.bocabearings.com/innovation-contest/.
And check out the video here
"Boca Bearing Company started with humble beginnings as a ball bearing supplier to the Radio Control (RC) hobby market. As the years progressed, we started offering a wider variety of bearings appropriate for use in various different applications from industrial to hobby and recreational uses. Many of the young men and women that enjoyed playing with RC vehicles as kids eventually grew up and went to work in advanced manufacturing industries such as robotics, optics, engineering, applied physics and other hands-on fields," said Allen Baum, president and founder of Boca Bearing Company. "These customers took us along with them and helped to expand the company's product line and focus. We've created this contest as a way to thank our global customers for their commitment to our business and to innovation."
About Boca Bearing Company
Today Boca Bearing Company's product line can not only be found in RC cars, RC helicopters and RC engines but also in turbine flow meters, unmanned autonomous vehicles, robots, semiconductor manufacturing, MRI machines, packaging equipment and much more. The Boca Bearing Company is one of the most trusted names in ceramic and specialty bearing technology. The reduction of rolling resistance and conservation of energy has been our hallmark since 1987. Boca Bearings never has a minimum order and is a one stop shop for everything from prototyping to production.